"Behold, I make all things new."  – Revelation 21
RESET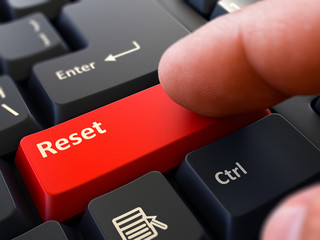 My church office computer has recently become so slow that those who use it for printing or researching have refrained and chosen another computer at church to accomplish their tasks.  Over the course of the last few years, it has become cluttered with vast amounts of programs, sub-routines, endless updates and sometimes downright useless data.  Crawling along at rush-hour traffic speeds, my system was simply ceasing to function in an effective manner.  It was more of a problem than it was a tool.  It hindered more than it helped.
It was time for a system reset.
After this greatly-needed procedure, my computer jumped back to life.  After the re-installation of the freshly deleted software, tasks were once again able to be accomplished on this machine, music was able to be transcribed and printed, Bible software once again functioned as it was originally designed to do.  Although not every problem was fixed by the reset, my system once again began to function, accomplish a great deal of tasks, and even brought me a sense of joy with its new-found life.
CCC is also in the middle of a system reboot.  
A couple of weeks ago, we had a meeting after the church service to discuss some of the issues which had bogged us down, made us sluggish, and caused us frustration.  While not necessarily a full system reset, it was – in my opinion – a good beginning to that end.  Issues which some felt needed to be addressed were, feelings were expressed, and even some sense of solidarity in purpose began to emerge.  Some expressed an admission they were not stepping up enough, and others joined in that sentiment.  
One outcome of the meeting was an agreement for the need for unity, and the accepted proposal to achieve that goal was to combine the two services into one.  So, starting this Sunday, September 11, we will have one service at 9:30.  After it is finished, there will be a time of fellowship so we can re-discover our brothers and sisters and stand together in one-accord.  At 11:00, we will have a new event; one which has been lacking on Sunday mornings for all of Christ Community's history: a Bible Study for all!  (Kid's Community will still continue at it's same place and time)  I highly encourage all to attend both the service and Sunday School, for the time has come for us to go deeper into God's Word.
The CCC System Reset has begun; will you join us in this new, exciting time of renewal?
Pastor Neil
Upcoming Events:
Tonight 9.8

Praise & Prayer

6:30pm

w/Compass

Tomorrow Night 9.9

Guys Night Out!

6:30pm

Pot Luck!

Sunday, Sept. 11

ONE Service

9:30am

FAMILY Service

Sept. 11

Sunday School

11:00am

Kids Community(gym) Middle School – Adults (sanctuary)

Sunday, Sept 12

CE




LIM




Elders




meetings

6:30pm

7:30

8:30

respectively

Sept 20

Ladies Night Out

6:00pm

Speaker: Kate Anderson

Sept. 25

Fellowship Meal

After Sunday School
Financial Update:
This last week, we had one brief service at CCC, then the rest of the congregation would meet at LifeLight.  Since there was no offering taken, you can click here to give online if you would like to fill in the financial gap created by Labor Day Weekend.  Thank you for your continued support!
Prayer Corner:
Please continue to lift CCC up in your prayers as we rediscover and implement Jesus' heart and desire for His church!

Praise God for the wonderful works he has done in the lives of so many at CCC. The continued healing of Jim Weems, the Sangers, and many more.

Pray for the safe delivery of Kyle and China's baby soon, as they have had a few issues.

Please pray for our kids and teachers as they return for another year of school.

Please pray for the healing of Marie's wrist as she broke it falling. She is experiencing significant pain.
A Few More Things….
Rick Eshbaugh, District Minister for the MB Central District, will be helping us out for the next three weeks as he delivers a message series on "United: Three Chords."

As the new Sunday School adventure begins at CCC, please prayerfully consider being a teacher.  While we have the teaching slot covered for the first couple of months, many opportunities will arise for those within our congregation who believe they have a message to share from The Word.  Please contact Pastor Neil if you would like to teach.  

If you have always wanted to know what your spiritual gifts are that the Lord has given you, Michael Gage will soon be helping us find out what they are through an assessment system he will administer.  Details coming soon.

Many other ministries will soon be launching this fall.  If you have an idea for one, please let Neil know!
God bless you all, and have a great and Godly day!